WHAT'S HAPPENING AT ARGYLE MARKETPLACE
Friday, November 27, 2020
*Please Order EARLY To Assist with Production &
Pick Up/Delivery Scheduling!*
WEEKLY SPECIAL SMOOTHIE:
"The Green Wave": Pineapple, Kale, Banana, Honey & Almond Milk….Sm 6.99 Lg 7.99
TODAY'S SOUP KETTLE:
Matzoh Ball~Chicken Noodle
S4.99 M5.99 Q9.99
Complete Daily Menu Offerings Available https://argylemarketplace.com/menu.html
Store hours:
THURS., NOV. 26: **CLOSED**
PRE-ORDERED CATERING PICK UP ONLY
FRI., NOV. 27: 9:00AM – 3:00PM
SAT., NOV. 28: 8:30AM – 2:00PM
SUN., NOV. 29: CLOSED
SOUP KETTLE:
Argyle Features a Wide Variety of "Fresh Frozen"
Homemade Soups!
Choose From:
Mushroom Barley (VEG)
Country Minestrone (VEG)
Very Veggie (VEG/GF)
Hearty Beef Vegetable
Hearty Lentil (VEG/GF)
Roasted Carrot & Apple (VEG/GF)
Garden Tomato Vegetable (VEG/GF)
Kale & White Bean (VEG/GF)
Sweet Potato Chowder (VEG/GF)
Chicken Consomme (GF)
Turkey Chili
Rich Beef Stew
Firehouse Steak Chili
GET 40% OFF OUR $25 GIFT CARDS/CERTIFICATES


Nov 16 thru Nov 30…while supplies last!
Gift cards are available HERE and at over 45 other Livingston businesses of all types.
Visit facebook.com/FindYourselfInLivingston for participating places!
Limit 2 cards per customer per participating business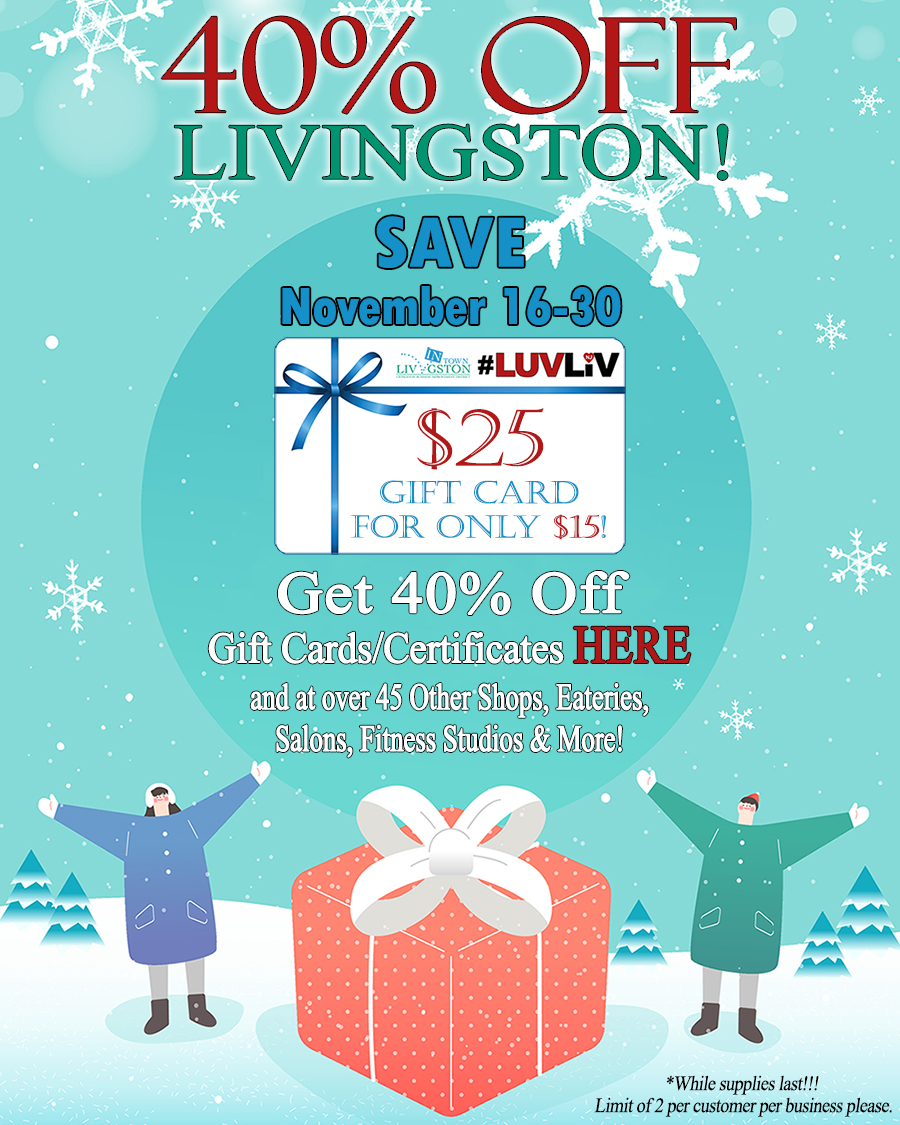 "The Products Offered For Sale Are Not Represented As KOSHER."